Back to Product Listing
Personalized Handmade Ceramic Wedding Platter - Custom Made - Oval Bowl - Plate- Stamped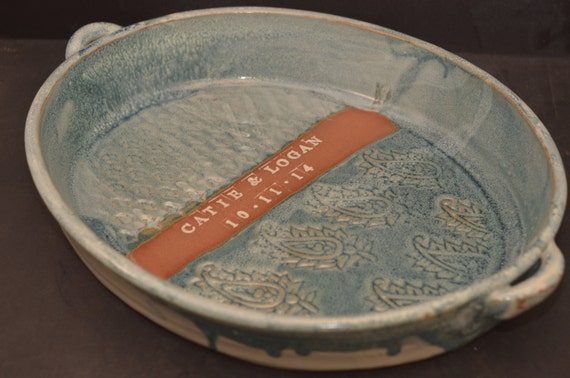 This style from my custom wedding platter collection is a handmade oval platter stamped with the couples' names inside. This platter has a beautiful pattern with Indian and Tibetan designs. It can be used for serving, baking, or as a centerpiece.
The piece is glazed in ivory white and antique blue with some variations where the colors overlap and blend.
These platters measure approximately 16" x 13" and 2" tall.
*Please provide the couples' names in the "note to seller" box upon checkout. Names are printed on the inside of the piece as shown. These custom platters ship in 6-8 weeks.
These platters are hand thrown on the wheel and an oval base is rolled out as a slab. The two sections are carefully joined while still wet. They are then hand stamped and personalized. After slowing drying to the "leather hard" stage for a few days, it is trimmed and the hand pulled handle is attached. It is dried completely over a week's time and then bisque fired to 1940 F. After cooling completely, it is carefully glazed and receives its final firing to 2232 F. Each firing takes a minimum of 24 hours to complete. The entire process from start to finish for a piece takes about 4-6 weeks.
All of my pottery is food-safe and non-toxic. It is dishwasher, microwave and oven safe. To protect your pottery, never expose it to extreme or drastic temperature changes between cold and hot.
Because all of my pieces are hand made, there may be slight variations in coloring and textures giving each a unique character that is functional and beautiful. Use it well, and enjoy.
**Due to the size and weight of this piece, the shipping cost is higher than usual. I always insure my pottery, and I want to be sure a piece this carefully made arrives safely to its new home.