Back to Product Listing
Handmade Ceramic Tea Set - Teapot and Teacups - Loose Leaf Tea - Antique Blue and Ivory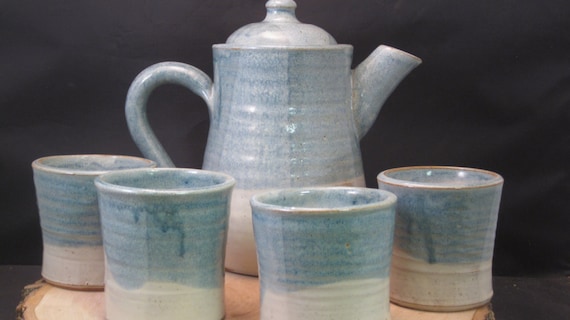 This beautiful and unique tea set is perfect for tea lovers. The teapot and matching 4 teacups make a lovely serving piece. It is sure to make an excellent teapot for function as well as decoration. The glaze is an antique blue over ivory.
The teapot design allows for brewing loose leaf tea leaves such as black or green tea leaves without them pouring through the spout. There are small holes where the spout meets the body of the pot, straining the leaves right there rather than needing a separate strainer.
The body of the teapot measures approx. 7" tall and 4.5" wide at the base (this does not include the spout and handle). The tea cups measure 3" tall and 3" wide at the rim.
This teapot can hold 30 ounces of tea.
This piece was hand thrown on the wheel. The lid, and spout were also thrown separately. When it was leather-hard, the loops for the top handle, and spout were added by hand. It was bisque fired, glazed, then received a final firing at cone 6.
All of my pottery is dishwasher, microwave, and oven safe. I only use lead-free non-toxic glazes.
Because all of my pieces are hand made, there may be slight variations in coloring and textures giving each a unique character that is functional and beautiful. Use it well, and enjoy.
Note: Shipping cost for a teapot is extra due to packaging and care needed to carefully wrap handles and spouts.