Back to Product Listing
Personalized Handmade Ceramic Birth Plate - Baby Gift - Custom Made - Stamped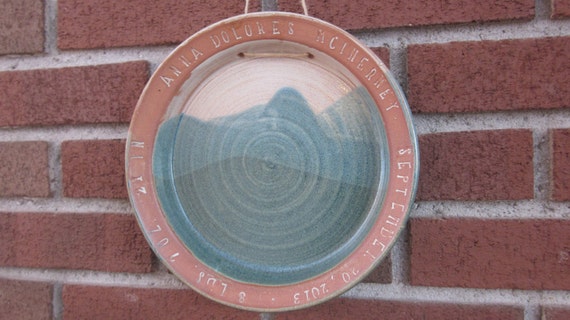 This beautiful birth plate is a lovely gift for any new baby and parent.
It hangs to display the baby's name, birth date, weight and height (or custom stamping of your choosing). The glazing mimics a mountain landscape at the center and the lettering is hand stamped with glazing inside the stamping. There are two holes at the top of the plate and a piece of jute twine is attached for hanging.
The piece is glazed in ivory white and antique blue with some variations where the colors overlap and blend.
These plate measure approximately 9" wide and 1.5" deep.
Please provide the name, date, weight and height (or information of your choosing) in the "note to seller" box upon checkout. Information is printed on the inside of the piece as shown. These custom plates ship in 6-8 weeks.
All of my pottery is food-safe and non-toxic. It is dishwasher, microwave and oven safe. To protect your pottery, never expose it to extreme or drastic temperature changes between cold and hot.
Because all of my pieces are hand made, there may be slight variations in coloring and textures giving each a unique character that is functional and beautiful. Use it well, and enjoy.