Back to Product Listing
Handmade Ceramic Lidded Jar or Canister with Japanese Cane handle- Celadon Green / Brown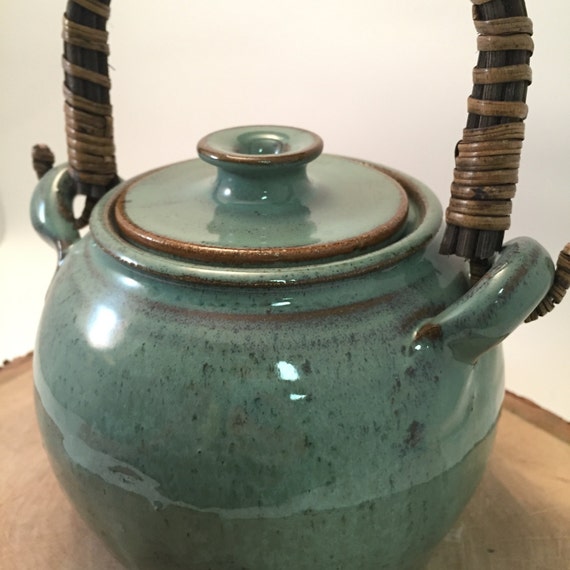 This covered jar has many great uses in a kitchen and home. It can be used as a canister for food storage such as cookies, tea, or snacks. It could also be used in a bathroom for cotton balls, for jewelry, etc. It is glazed in celadon green/ brown and has a Japanese cane handle.
This piece is great for a housewarming, engagement, wedding, or anytime gift. It is not only incredibly functional, but it is a piece of art and its glazing adds a unique look. It measures approximately 6" wide, 4" tall (7" tall with handle).
This piece was hand thrown on the wheel. After slowing drying to the "leather hard" stage for about 24 hours, it was trimmed on the wheel again and any additional features were added. It then was dried completely over a few days and bisque fired to 1940F. After cooling completely, glazes were applied and it received its final firing to 2232F. Each firing takes a minimum of 24 hours to complete. The entire process from start to finish for a piece takes about 2 weeks.
All of my pottery is food-safe and non-toxic. It is dishwasher, microwave and oven safe. To protect your pottery, never expose it to extreme or drastic temperature changes between cold and hot.
Because all of my pieces are hand made, there may be slight variations in coloring and textures giving each a unique character that is functional and beautiful. Use it well, and enjoy.